Domino's App Turns Pizza Orders Into 'Heroes' Game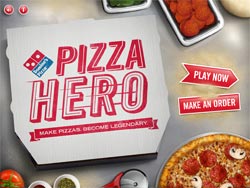 It is no secret to marketers that the iPad is turning into a gaming powerhouse. Domino's is running with the trend in a new Pizza Hero app for iPad that has users swipe, drag and tap their way to making the perfect pie that they can even order.
The app uses most of the interactive features of the iPad to move the novice Domino's chef through the process of stretching dough (circular swipes), ladling sauce (more circular swipes), scattering cheese (random taps) and laying pepperoni (targeted taps).
The ambitious branded app is more than a few game-like mechanics in an ordering app. Pizza Hero ties into the iOS Game Center hub for social gaming, with a fair number of levels and challenges that make the app into a genuine gaming experience. "Heroes" competes on the Game Center leaderboard. The initial tutorials test your basic pizza-making skills, but subsequent levels offer time-specific contests that are unlocked when you complete earlier ones.
As a branding exercise, the app not only gets the consumer into the process of making the better pie, but reinforces Domino's legacy. Between levels, the game drops trivia about the company's history and innovations. The judgmental store "manager" in the game is always reinforcing quality and uniformity.
The app also allows users to create a custom pizza that can be ordered from the iPad itself.
Domino's appears to have succeeded in poking through the considerable app noise, especially among branded offerings. Pizza Hero is listed in the highly competitive Games category of the iPad App Store and has risen to the 36th-most-popular offering in the free section, which includes "Angry Bird Rio," "Family Feud" and "Snoopy's Street Fair."