Google Shopping Turns Free Search Into Paid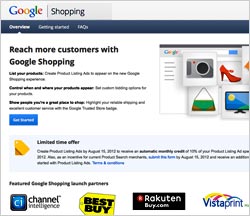 Google could gain a financial boost from paid advertisers looking to improve product search results on Google Shopping, but not all online ad experts agree the change will prove positive for merchants. It could complicate matters, as the new product combines product feeds with paid results.
For Google, the upside means additional ad revenue. For merchants, the downside means they now must pay for a once-free service that generated positive performance and gains in ecommerce traffic. How much retailers and advertisers pay will influence product search results for U.S. consumers beginning this fall.
Previously, searches were based on relevance. Rimm-Kaufman analyst Mark Ballard said the new program might increase traffic levels for advertisers using Google AdWords by 3%, which might not be enough to offset costs.
"We don't expect merchants to gain more traffic," Ballard said. "In fact, they might even see less traffic because I would expect fewer combined clicks. They're paying for a chunk of traffic they previously got for free."
As incentives to adopt the paid listing ads, Google will offer a 10% discount on all paid clicks received from the ads on Google.com and Google Shopping when initiating the ads prior to August 15. The discount applies from July 1 through the end of the year. Sellers on Google Shopping also can receive a $100 AdWords credit if they become a new Product Listing Ad client.
Some search experts expect to see similar changes to other services as pressure to generate additional revenue rises under cofounder Larry Page.