Has GM's Electricity Followed Ewanick Out The Door?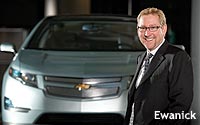 Those of us with 20/20 hindsight aren't scratching our heads about global marketing chief Joel Ewanick's exit from General Motors. Whatever the company imagines itself to be, it has a long history of getting rid of talented people who need a strong set of wheel chocks to keep them in line.
Ewanick was reportedly -- or at least ostensibly -- let go for a deal where for $39 million per year for seven years Chevy gets its name on the jerseys of soccer team Manchester United, a deal about which he reportedly tried to avoid the bureaucracy by shifting the costs around to different budgets.
But that's probably not it, or it's a relatively minor detail compared to, say, Saturn -- which was a $5 billion effort to make big changes at GM. No, it is more likely that GM wanted a change agent -- a catalyst -- and didn't like what comes with it. Ewanick fit GM corporate culture like a Hawaiian shirt at an accounting convention. Or a surfboard on the roof of an 18-wheeler. And it probably didn't help that "brand" Ewanick was getting as much buzz as GM vehicles, as happened when he announced GM would not advertise on Facebook a day before Facebook's IPO. (Both Facebook and GM are now trading at around $20, by the way.) Not to mention his stage performance at Cannes with Jeff Goodby, where F-bombs were kicked around like footballs.
And there's always sales to back up an ouster argument. General Motors posted a 2% increase in year-to-date U.S. sales through July, while the industry is up about 9% (although both GM and Ford saw softer sales in July, as Toyota and Honda are back up to speed.)
But one industry observer says Ewanick, who spent a lot of time in California at Hyundai, just wasn't a good fit for GM, where he was more John DeLorean than Harley Earl. "The very reason GM failed was because it became so inward-facing that it lost touch with its dealers, its customers and its mission," he says. "Nowhere was this dichotomy more evident than in California. Culturally, Detroit and California are a universe apart. Detroit car people -- indeed, that entire culture -- learned to resent California. So Ewanick is California. What did we think was going to happen?"
Well, if you are prone to entertain "Richard the Third"-style conspiracies, you might imagine that GM CEO Dan Akerson -- to steal from the Bard's play -- "From the crossrow pluck[ed] the letter 'G,'" which in this case would be a former auto industry analyst, and GM Vice Chair Stephen Girsky. In this conspiracy play he'd be whispering in Akerson's ear that Ewanick is a loose cannon with a big mouth and loose purse strings.
You could then argue that both Akerson and Girsky speak Wall Street: Akerson, who replaced Edward Whitacre as CEO two years ago, had been the Global Buyout chief at The Carlyle Group. Girsky was a long-time analyst at Morgan Stanley and ran his own advisory firm in New York. These guys know their P and L's and don't like to see the numbers sag. And they are acutely aware of that 40% of GM is still owned by the government, no doubt.
Todd Turner, president of auto consultancy Car Concepts, says Ford benefits from having a manufacturing person at the helm in President/CEO Alan Mulally. "Akerson comes from a financial background and at GM there is still a tendency to micro-manage. But this is a business that is as much about gut instinct as it is about numbers."
Did Ewanick have it coming? Well, he probably made a lot of people angry when he hung Publicis Worldwide out to dry after moving Chevrolet to Omnicom's Goodby Silverstein, and switched Caddie from Bartle Bogle Hegarty to Fallon. The formation of Commonwealth also raised a lot of antennas, as he was trying something radical in combining rival agencies. "Really," says my source, "what Ewanick lacked was a consigliari."
But the observer -- who prefers not to be named -- points out that Ewanick's priority at GM was making changes, not adhering to policy. "He just would never have put policy first. Not when the company is on fire. He was going to fix what's broke -- the agency, creative, strategy -- and in order to get that done he rewarded work to agencies, and did it without review, and that broke policy. Big deal."
He says that holds for the Manchester United deal as well. "For him to apportion over several budgets -- that happens, because some manufacturers have line-item budgets and restrict you from transferring money without some long process -- Ewanick wasn't going to waste time with that. It's his budget."
The bottom line may be that with Ewanick gone, GM will need to find another Big Ideas person, and that could be tough. Idiosyncratic methods notwithstanding, people paid attention to Ewanick because he was competitive; he is the kind of marketer who makes others want to compete. Hopefully, GM can find that elsewhere, but it won't be easy.