Starbucks Heads 'Best-Loved' Brands List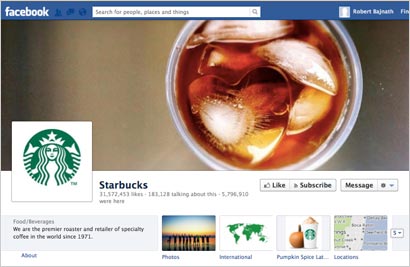 Based on analysis of consumer sentiments as expressed on social media, Starbucks was the restaurant brand "most loved" by U.S. consumers as of this year's first half, according to a new report from DigitalCoCo.
DigitalCoCo tracks social media sentiment for more than 3,400 restaurant brands, including the sentiments of consumers identified as "super influencers" in the restaurant arena. Its Consumer Sentiment Index (CSI) tracks more than 32,000 restaurant/hospitality industry-related terms to score brands in three main areas: food, service and brand sentiment.
Starbucks led the first half's top 10 "best loved" list with a combined Q1/Q2 CSI of 72.9.
The rest of the top 10: Red Mango (70), Panera Bread (62.1), Boudin Sourdough Bakery & Café (62), Peet's Coffee & Tea (61.5), Bonefish Grill (61.1), Hard Rock Café (60.1), Buffalo Wild Wings (59.6), Noodles & Company (59.3), Chick-fil-A (57.8).
(Chick-fil-A has since been buffeted by the gay-marriage-statement controversy. An update in the report noted that as of July 29, Chick-fil-A's CSI had dropped to 29.1.)
The report also summarizes the demographics and likes/dislikes of restaurant "super influencers."
Twenty-nine percent of these consumers are females 18-34, 23% are females 35-49, 21% are males 18-34 and 12% are males 35-49.
Female super influencers put a high premium on good service and the brand experience; males stress good food and good service. Overall, these consumers value good-quality, fresh food from known sources, and good-quality staff and service.
Among influencers, the brands rated as being top in both food and service are Red Mango, Bonefish Grill, Boudin Sourdough Bakery & Café, Peet's Coffee & Tea and Panera Bread.
Influencers' #1 complaint is slow service, followed by being served the wrong food, poor service quality, poor food quality, and refusal to customize menu items.