Maps App Not Derailing iPhone 5 Demand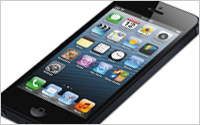 The Apple Maps flap has not dampened demand for the iPhone 5, according to a new survey from ChangeWave Research. It also suggests forthcoming Windows 8 phones could help Microsoft finally make inroads in the smartphone market.
To gauge interest in the latest iPhone model, ChangeWave asked 4,270 consumers in North America in September how likely they were to buy one in the future. Nineteen percent said "very likely," which is almost twice the rate (10%) of those who said the same a year ago about the iPhone 4S, which had one of the most successful releases to date.
But controversy over two new features has clouded the iPhone 5 launch: a global outcry over problems with Apple's Maps app, which replaced Google Maps on the home screen, and the new "Lightning" port for charging and data connections that requires buying an adapter ($29) for use with Apple's previous wire standard.
Apple CEO Tim Cook took the unusual step of publicly apologizing for the flawed Maps app in iOS 6 on Sept. 28.
Still, the survey showed that nine out of 10 iPhone 5 and iOS 6 users had not experienced problems with Apple Maps, and more than half (57%) of those "likely" to buy the new iPhone described the Lightning port as a "no problem" or "not much of a problem." Among those "unlikely" to buy it, none cited the Lightning port as a reason.
Apple reported sales of more than 5 million iPhone 5s in the device's first weekend of release last month. Some analysts had predicted it might sell up to 10 million.
For its part, Microsoft is hoping the launch of Windows 8 this month is one reason that consumers might not be getting an iPhone. To date, the software giant and hardware partner Nokia have been able to get traction in the smartphone market against Apple and Google. Microsoft is reportedly kicking off a marketing blitz this weekend to promote the new operating system that will power smartphones as well as tablets and PCs.
The ChangeWave study showed that 9% are likely to buy a Windows 8 phone in the future. "Considering marketing has yet to begin, these findings show Windows Phone 8 will likely have a substantial impact on the smart phone industry," said Paul Carton, VP, research at ChangeWave, a unit of 451 Research.
The findings suggested Windows 8 could also give a boost to Samsung, expected to be among the manufacturers offering phones using the Microsoft operating system. Among the 55% who know which handset maker they are likely to buy from, 51% said they would get a Samsung Windows 8 phone. Another 35% said Nokia, followed by HTC (7%) and other manufacturers (6%).
Samsung this year overtook Nokia as the world's top mobile phone maker, buoyed by its sales of Android-based phones, including the flagship Samsung Galaxy S III smartphone. Whatever the reception to the new line of Windows 8 phones, Microsoft has a long way to come back. The company had just 3.6% of the U.S. smartphone OS market as of August -- down from 4% in May, according to the latest data from comScore.