Walmart Looking To Boost Women-Owned Businesses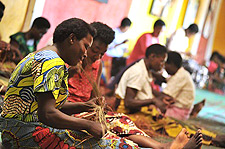 Think of it as UNICEF meets Bentonville. In honor of International Women's Day, Walmart is devoting a section of its Web site to selling products from women-owned businesses, ranging from iPad covers from Nepal to Haitian papier-mâché. Called Empowering Women Together, the site is intended to connect U.S. shoppers with these small companies. The retailer says its hope is that by selecting items that are "on-trend and priced right, we are giving our customers the chance to do good with their dollars -- it's a positive and powerful proposition for everyone."
Altogether, there are some 200 products from 19 different businesses located in nine countries. Nine are from the U.S.
The site includes stories from the businesses, such as Gahaya Links, a Rwandan weaving cooperative. Formed with 20 women just after 1994's Rwandan Genocide, it has grown to include 4,000, many of them survivors.
The effort is part of Store for Good -- a concept the Bentonville, Ark.-based retailer is developing, which will eventually include eco-friendly products and healthier food options.
Cynics will doubtless find irony in the move. In 2011, several months after the U.S. Supreme Court blocked a 1.5-million-member class-action suit, the largest in U.S. history, Walmart announced its Global Women's Economic Empowerment Initiative. The stated goal of that five-year effort it to increase sourcing from women-owned businesses to $20 billion, and "empowering nearly 1 million women through training."
Since then, the chain has been the target of sex-discrimination suits in several other states.
Meanwhile, Avon is also using International Women's Day to showcase its efforts against domestic violence. And corporate sponsors of the event include BP, which is running a "Discover BP's Feminine Side" slideshow on the organization's Web site, as well as Scotiabank and International Finance Corp.
And to commemorate the event, Unilever's Dove says it is relaunching its popular "Ad Makeover" effort, via Facebook. Last year, more than 33 million women participated, calling out ads that made them feel inadequate and promoting more nurturing messages like "The perfect bum is the one you're sitting on" and "Your birthday suit suits you."