Mercedes-Benz Lets Neistat Play With the CLA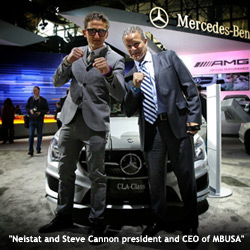 Mercedes-Benz (MBUSA) introduced the CLA -- its first bona fide luxury car for younger buyers who want to get a piece of the three-pointed star -- on the Super Bowl. But you can't buy the car until September. It's not a unique problem. Several automakers have experienced the BlackBerry conundrum: unveiling a new car that doesn't go on sale for several months. Usually that happens at an auto show. But sometimes it happens with a national campaign.
Well, you can't fault Mercedes-Benz for introducing the car on a Super Bowl ad pod. The company staked a lot on the game, including naming rights for the Super Dome in New Orleans where the game was played.
But how to keep the interest going? "We knew we had to span that gap, and that we had to use social media to do it," says Bernie Glaser, VP marketing at Montvale, N.J.-based MBUSA. He says the automaker is partnering with filmmaker and social maven Casey Neistat to get things going. Neistat, who was involved with the Nike Fuel Band launch, will make a video project around the CLA starting in April. "He will interact with the CLA, that's as much as we know at this point." That, he says, is because Neistat will pretty much do what he wants, creatively. "He got a briefing, we delivered the car to his front door. It's up to him."
The videos will be released this summer, then "we have three or more ideas that will carry interest on social, especially with the audience we want to reach," says Glaser. "What better way to do this than with someone who is also a Millennial, with a massive follower base. It's a good match for us." He says Mercedes has its own 1.4 million fans, "And Facebook owns Instagram, so we will be doing things there as well. But we thought it would be more authentic if Casey distributed the content on his network first, and then we will pick it up."
Glaser says the company is in a good place to start the year, noting that company has had record sales for the first two months, up 16%, and that there's a good chance the trend will continue through March, if not 2013 (if things don't fall apart in Washington, which is an even bet."