Search And Made-Up Words Driving Clicks, Traffic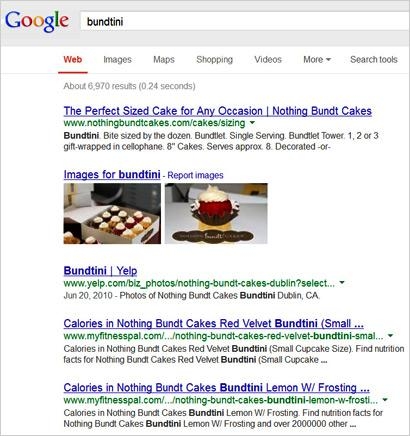 Bundtini. I got stuck on that word this past weekend. It made me laugh. Guess I just like the way it sounds and rolls off my tongue. So you're probably wondering what that heck a Bundtini is (pronounced Bundt-teenee). I'll tell you.
Friends came for dinner and brought along with them a Bundt cake for dessert. In the box came a flyer for other treats from the bakery Nothing Bundt Cakes. It turns out that Bundtinis are small individual Bundt cakes. They come in chocolate chocolate chip, marble, white white chocolate, white chocolate raspberry, pecan praline, and cinnamon swirl.
I started wondering about how this bakery would optimize this made-up buzzword -- bundtini -- to serve up in the top slots in a search engine query. Does it make sense to create and build a campaign based on made-up words that a company uses to describe one of their products?
Would search marketers use this word Bundtini in a paid-search campaign? How many people would actually search on this word, and what would the cost per click look like?
It turns out that made-up words that get attached to brands are more important to bid on than real words, per Aaron Goldman, CMO at Kenshoo. "If you made up a word to associate with your business or product, you need to make sure people can find you if and when they remember that word," he says. "Made-up words are often misspelled, so it's important to bid on all variations. Even if only a few people ever search and click, those visitors are highly valuable potential brand advocates that you don't want to leave hanging."
WordStream founder Larry Kim says it's important when using these made-up words to check whether they have other meanings, because marketers don't want the ads showing up on some other made-up word that is not unique to the company's. An explanation of how he branded his company's name provides a good example of building buzz for a made-up word.
Google requires that the word reach a minimum threshold of searches before it will take a bid. Once it reaches that threshold, Kim says the word becomes more attractive to bid on. It's similar to a branded search, which tends to become very cost-effective. "The average cost per click is about $1, but the branded searches are about 10 cents to 15 cents," he said. "It becomes effective if you can generate enough buzz around the made-up term."
Kim says it just takes time to get to that threshold, especially for small shops using made-up words depending on their brand and the buzz created behind the word.

By the way, I'm gearing up for the MediaPost Search Insider Summit Dec. 8-11 in Park City, Deer Valley, Utah. If you have content suggestions or would like to join us, drop me a line at sullivan@mediapost.com. See you soon. Based on feedback received so far, I'm expecting a great crowd.