NPR Gets Acting CEO, Cuts Staff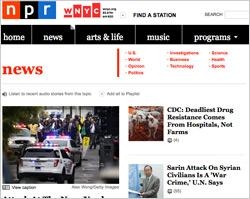 NPR hasn't been immune to the woes of the commercial radio business, and like many of its for-profit counterparts the highbrow public radio network is being forced to trim its workforce.
On Friday, NPR revealed plans to offer voluntary buyouts to around 10% of its staff, equal to around 80 employees; the organization also announced the appointment of Paul Haaga -- previously the vice-chair of NPR's board of directors -- to the position of acting president and CEO.
Current NPR CEO Gary Knell, who announced his intention to leave NPR to become president and CEO of National Geographic last month, told employees about the changes in an internal memo, explaining that the buyouts would help balance the organization's budget by fiscal year 2015.
In a meeting with staff, Knell said the buyout plan was tailored to allow NPR to make cuts in accordance with union rules.
Even as it gets its finances in order, NPR continues to face broader challenges, including attracting a younger audience as its own listeners age and more listeners migrate to digital platforms. According to NPR's own data, the median age of the network's broadcast listeners is 49. Earlier this year, NPR launched an advertising campaign targeting adults ages 25-44 with TV, billboards, rail transit, print and digital messages.
The Corporation for Public Broadcasting, which carries NPR, also faces periodic threats to its funding from Congressional right-wing Republicans who claim the organization has a left-wing bias.
However, it's not all bad news. Stations which carry NPR receive about 70% of their revenues, on average, from private donors. Also, the overall audience appears to be growing. Over the last decade, Arbitron found that NPR's weekly radio audience has increased from 19.5 million in 2001 to 26 million in 2012.