ABC's 'Scandal' Heats Up 18+ Viewers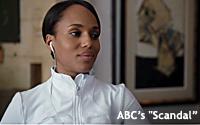 A rising star this broadcast season? It would be hard not to include ABC's 10 p.m. Thursday drama "Scandal" on a very small list.
By at least two key measures, the show has improved over its previous results: Its Thursday season debut show was up 13% among 18-49 viewers over its 3.2 rating season finale in May to a Nielsen preliminary 3.6 rating, and a massive 71% higher from its 2.1 premiere last fall.
"Scandal" was the top ABC program of the night -- in a time slot that continually finds it hard to cultivate viewers, as a result of increasing time-shifted activity.
The show's traditional TV performance -- for which many credit Twitter and its big social media presence for awareness -- towered over its competition in the time period. CBS' "Elementary" earned a 2.0/6, while NBC's "Parenthood" took in a 1.7/5. These shows are down 5% and up 6%, respectively, from their week-ago outings.
For the night, ABC also scored a solid 3.0/8 thanks to its 9 p.m. longtime medical drama from "Grey's Anatomy," down 12% from a week ago. All this put ABC within a fraction of CBS in winning the night. CBS was at a 2.9/9 and ABC, a 2.8/8.
CBS continued to score strong results from its night-leading "Big Bang Theory" -- a 5.0/16, down 9% from the week before. The strong "Bang" lead-in help start up its new 8:30 p.m. comedy, "The Millers," which earned a 3.3/9.
At 9 p.m., CBS' "The Crazy Ones" continued to post strong results -- at a 2.9/8, nearly tying "Grey's Anatomy" for the time period lead. "Ones" was down 26% from the week-ago premiere, while "Grey's" was down 12%.
Other series premieres had mixed results. The best of the bunch was NBC's "Sean Saves The World" at 9 p.m., which got to a 1.6/4. NBC's 8:30 p.m. "Welcome to the Family" wasn't so lucky, at a 1.2/4. CW' premiere of "The Originals" could only muster a 0.9/3 at 9 p.m.
One returning show starting up CW's "Vampire Diaries" at 8 p.m. with a 1.2/4, was down 25% from last year's start.
After CBS and ABC in the first and second spots among 18-49 viewers, Fox was at a 1.8/5; NBC, a 1.6/5; Univision, a 1.3/4; and CW, a 1.0/3.