P&G Goes Highbrow In Fashion Collaboration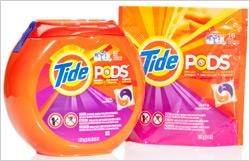 Procter & Gamble, the overlord of the world's laundry rooms, says it has tapped Brit designer Giles Deacon as its first-ever global fashion consultant, and formed a partnership with the Council of Fashion Designers of America. Deacon is well known in fashion circles for his high-end expertise, including design stints at Bottega Veneta and the Gucci Group, as well as his collections for New Look.
The idea behind the effort, which also includes a partnership with Première Vision, the fabric and textiles show and trends observer, is to increase awareness for P&G's prowess in fabric care, including its Tide, Downy, Gain and Bounce brands.
It says it hopes the initiatives will "explore the future of fabrics and the science behind the beauty and care of clothes." Those insights, it says, may help in new product development and innovation.
The partnership with the CFDA focuses on a new "Washable Fashion Initiative" with Tide Pods, and is the first time the industry group has partnered with a fabric care brand. The plan is to "drive the fashion industry to reconsider its use of machine-washable fabrics and ultimately fulfill the increasing demand among consumers for designer garments that can be easily cared for at home with machine washing."
It says the initiative is based on research that 85% of CFDA's 400 members would design more clothing with washable fabrics if they felt there were reliable laundry products available.
P&G's Tide Pods have been under fire as a poisoning hazard, with children mistaking them for candy. Despite changes to its packaging and a "Safe Home" initiative with the American Academy of Pediatrics, last month, a Chicago area grandmother kicked off a Change.org petition, calling for additional packaging changes.