Coke Under Heavy Fire; Also Loses Chief N.A. Marketer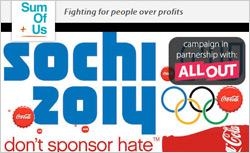 From a PR standpoint, this can't have been one of Coca-Cola's best weeks, to put it mildly.
The brand is the subject of a petition from LGBT supporters relating to its sponsorship of the 2014 Winter Olympics in Russia, and is taking flak in two new campaigns from health groups. And in addition, it's losing its chief North American marketer.
On the executive front, Coca-Cola made an internal announcement that Alison Lewis, SVP-strategic marketing at its North America Group, will be leaving at the end of this month to join another (unidentified) global organization, according to Ad Age.
Lewis, who has been with the company since 1996, started in her current role in 2011, in which she oversees the company's annual advertising spending of $600 million-plus. She has served in several executive positions at the company, including SVP, general manager for Coca-Cola's Odwalla division.
Coca-Cola's internal memo reportedly stated that it will soon name Lewis's announcement.
On another front, SumOfUs.org and All Out launched a petition demanding that Coca-Cola, as a major sponsor of the 2014 Winter Olympics in Sochia, Russia, immediately speak out against Russia's "brutal new anti-gay laws."
The petition states that Coke has so far remained silent about Russia's LGBT crackdown, and that Coca-Cola executives "are just days away from deciding whether or not to speak out" against the new laws.
"We need to show [Coke's executives] the potential brand damage at stake if they stay silent," states the petition, adding that if the petition succeeds in swaying Coke to speak out, "we can set off an earthshaking domino effect that pushes other international sponsors to follow. This is the best shot we have at creating a billion-dollar problem for Russia that can ultimately push it to overturn its horrific anti-gay laws."
The petition, which is aiming for 350,000 signatures, has gathered more than 295,000 in its first few days.
In addition, Coca-Cola, along with PepsiCo, are targeted in two new campaigns seeking to help dissuade kids from drinking sugary sodas.
The Center for Science in the Public Interest and other health groups took out an ad in Variety to publish an open letter to Katy Perry, who is in a multichannel spokesperson deal with Pepsi, to stop using her music and social clout to market Pepsi to young people.
But Coke is also cited in the letter: "One out of every three American children and teens is overweight or obese – the science shows that drinking too much Pepsi, Coke, and other sugar drinks is a major cause of that."
CSPI has also produced a video, "The Sell Outs," showing celebrities including Marilyn Monroe, Bill Gates, Bill Cosby, Michael Jackson, Shakira and Perry endorsing Coke, Pepsi or other sugary drinks over the years, and an infographic showing the combined social media clout of celebrities that endorse sugary drinks.
Finally, Coke is used in the core message of a new TV spot being aired locally in national and cable programming by Howard County, Maryland's Horizon Foundation, as part of an "Unsweetened" campaign it launched late last year.
The community-wide campaign from Horizon, an independent philanthropy dedicated to improving the health and wellness of residents of Howard County, aims to help parents and kids make "better beverage choices."
The TV spot shows people on the street urging passers-by to replace their sugar sodas with zero or lower-calorie choices (including some beverage brands from Coca-Cola and PepsiCo)
But in a dig referencing Coke's world-familiar packaging, the ad ends with the message: "Because happiness doesn't come in a red can. Obesity does."
Online, the foundation also offers a "Better Beverage Finder," and several short videos that discuss sugary soda's "addictive" qualities and promote water as an easy way to lose weight and to save money.