Post-Olympics, CBS Gains Ground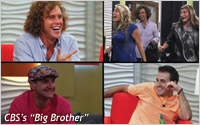 Networks are starting to ramp up their big fall plans -- and it begins with some late-summer original programming.

Fox kicked off a special Thursday night NFL pre-season game between the Cincinnati Bengals and Atlanta Falcons, giving the network a Nielsen preliminary 1.9 rating/6 share among adult 18 to 49 viewers.

Post NBC-carried Olympics, CBS picked up some good ratings points for its big reality show "Big Brother," now at a 2.3 rating/7, for a special live airing of the show at 9 p.m. This was the top-rated show of the night.

Repeats still serve CBS well: "Big Bang Theory" was the second-best-rated show airing on the night, with a 2.1/8, at 8 p.m. "Two and a Half Men," at 8:30 p.m., got to a 1.9/6.

ABC tried to get into the race with all original programming for the night. A new episode of "Wipeout" at 8 p.m. pulled in a 1.6/6 -- up from a 1.2 rating the week before. A new mid-August reality show -- "Time Machine Chefs," which picked up a somewhat respectable 1.2/3 -- aired at 9 p.m. Its summer drama "Rookie Blue" took in a 1.3/4 at 10 p.m.

NBC picked up ground as well. Its best came at 10 p.m. with "Rock Center with Brian Williams," earning a 1.2/4 -- up 50% from its last original episode.

For the night, Fox had the best results among 18-49 viewers: a 1.9/6. CBS was at 1.8/6; ABC with 1.4/4; Univision at 1.3/4; NBC a 1.0/3; and CW, a 0.3/1.