Is Apple Getting Its iPad Christmas?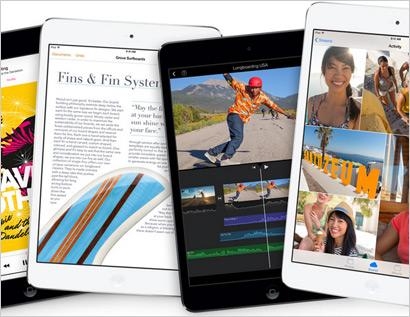 Apparently, it was the iPad in a walk during the kickoff to the short holiday shopping season. Not only was the Apple tablet platform responsible for much of the mobile-based shopping and buying that went on, but it was the object of consumer deal-hunting as well. Based on an analysis of thousands of consumer receipts on Black Friday, about 18% of Target's early sales were for one of the iPad flavors.
Of course, Target also had a big gift card promotion around the devices. But even over at Walmart, both online and in-store, the iPad Mini topped all other products in sales. In fact, a dirt cheap Android tablet ($49) was only the seventh-most-popular item. Walmart itself said it sold 1.4 million tablets just in its evening open hours on Thanksgiving. That is more than 10% of the 10 million register transactions the company said it had at its stores on T-Day. But even more TVs were sold (2 million).
No word on how much blood was spilled over these tablets, however.
The proliferation of iPad tablets, and their greater use for a range of functions, has implications for the entire app and cross-screen ecosystem. We have written before in these posts about the distance between actual device sales numbers for Android vs. iOS tablets and the usage data. Many SKU watchers claim that Android has been steadily eating away at iPad's former tablet dominance successfully. And yet actual usage metrics continue to show that in connected content consumption and e-commerce activity, iPads still rule.
One hypothesis of this gulf between ownership and use is that cheap Android tablets are flooding the foreign markets and often being jerry-rigged as portable TV/video playback devices. Another theory goes that Android tablets, including the Amazon Kindle variants, tend to be smaller and used more for ebook reading than surfing or app access.
One interesting ramification of tablet OS competition involves the relationship with other devices. Apple's AirPlay via Apple TV now vies with the very good Google Chromecast integration of laptop and Android device integration. But here is the thing. Infoscout discovered from its own panel of Android and iOS users that 40% of the iPads purchased in recent days were going to people who are already invested in the Android OS with their phones. This suggests that Google is having a rough time leveraging its mobile OS base in powering cross-platform interoperability. A lot of Android users seem willing to fragment their own use across operating systems.
Ultimately, we have to see how usage metrics pan out after the holidays to know whether Android tablets have made a real dent in iPad's dominance in terms of activity. On a technical basis, the Android alternatives have never been stronger. In my use, both the Nexus 7 and the Amazon Kindle HDX are superb performers with even better screens and weight profiles than the iPad Air. But Apple's redesign and tech upgrades of both full-size and mini models appear to have bought it a win for at least one more holiday cycle.