Google+ Hosts First Real-Time Hangout-A-Thon To Support Charity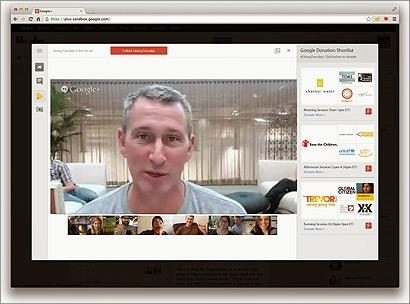 Google will use its social network Google+ video service Hangouts to help host the first online Hangout-a-thon that will allow consumers to connect with charitable causes to make donations in real-time.
The modern-day telethon supporting "Giving Tuesday," the Tuesday following the Thanksgiving Day and Black Friday in the United States, will feature celebrities Sophia Bush, Chris Daughtry and Jennifer Garner supporting their favorite nonprofit or charity. A variety of nonprofits and companies will come together beginning at 9 a.m. with the Un Foundation and Mashable.
#GivingTuesday, a campaign to create a national day during the annual holiday season, celebrates and encourages charitable activities that support nonprofit organizations.
The 12-hour Hangout-a-thon will highlight 24 charities. It will allow people to connect with relief efforts in the Philippines through Save the Children and UNICEF, join conversations with the founders of Warby Parker and TOMS about gifts that give back, and get inspired during through a yoga tutorial with the Africa Yoga Project in Kenya. It also will allow people to learn more about the Malala Fund to promote education as a peace-building tool in developing nations, and participate in a quick coding lesson from Code.org, Girls Who Code and Code2040 and learn what you can do to support digital literacy.
Organizations and consumers from about 43 countries will get involved in this year's Giving Tuesday. Kenneth Cole created content that talks about the company and how it can't change the work alone, but it can become an accessory to change.
Viewers can donate directly to the organizations doing the fundraising, or support them through an Android app that enables consumers to donate to different nonprofits throughout the holiday season. Downloading the app, One Today, provides insight into a variety of charities other than those participating in Giving Tuesday.
Each day from the One Today app, the user will learn about a different project from a nonprofit. They can donate $1 to the projects that inspire them most or give more by matching your friends' donations.