Interactive One, Lee Moss Partner For News, Social Media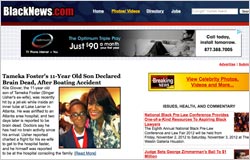 Interactive One, which targets African-Americans with entertainment and news content via a number of platforms, has formed an exclusive partnership with Lee Moss Media, which owns BlackNews.com and HBCUConnect.com, an online community for students and alumni of historically black colleges.
The deal gives Interactive One access to news content, social media and associated advertising inventory on the sites. Interactive One will manage all advertising sales for both properties.

BlackNews.com, which publishes news relevant to African-Americans in a blog format, attracts about 200,000 unique visitors per month, according to the site's figures, making it a midsize online destination for the African-American market.
By comparison, Huffington Post's Black Voices attracted over 4 million unique visitors in May of this year, BET.com attracted an average 2.2 million unique visitors per month in the third quarter of 2011.

HBCUConnect.com, which connects students and alumni of historically black colleges and universities, has a total membership of 1.2 million and attracts around 300,000 unique visitors per month, according to Lee Moss Media.

The two sites join Interactive One's other online offerings, including BlackPlanetNEXT.com, BlackPlanetRADIO.com, BlackPlanet.com, NewsOne.com and TheGrio.com.

In late June, Interactive One and its sister properties, Radio One and TV One, joined forces with a number of other publishers and entertainment companies targeting African-American consumers to form a black media and marketing consortium.
The consortium's first effort to raise the profile of black consumers with advertisers is a campaign with the tagline #INTHEBLACK. According to figures cited by the campaign, 42 million African-Americans will wield total spending power of $1.2 trillion by 2015, up from $913 billion in 2008.