MB S-Class: Better Than A Hot Stone Massage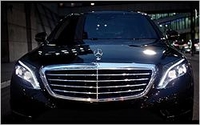 Mercedes-Benz is launching a marketing campaign to spotlight the redesigned flagship S-Class to draw a halo around the 2014 S550, which takes the floor at dealerships nationwide today.
Mercedes-Benz' Montvale, N.J.-based U.S. sales and marketing arm says the campaign shifts into first with national network TV, starting with two spots, one of which is a 60-second retrospective ad. The ad looks at the history of the company starting 127 years ago in Gottlieb Daimler's garage, then moves forward to show cars like the Silver Arrow racer inside the Mercedes-Benz museum in Stuttgart.
In the ad, enunciating the "inspire, provoke and push" ethos, viewers get a tour through the company's other facilities including those for design, crash testing, and racing. The ad ends with "Our entire automotive philosophy set in motion. Again."
The second ad, a 30-second spot, focuses on interior and exterior design and technology with voiceover saying each feature is more than its superficial description and how some are "more than" the aspects of the affluent living by which they are inspired. There's one moment showcasing the car's heated 10-point massage tech with V.O.: "It is more than a hot stone massage." The ad also spotlights the fact that the driver can alternate interior lighting as the camera gives a close-up of seat comfort technologies, choose between seven interior lighting hues, and even interior scents via a cabin fragrance system.
That's a big creative distance from the company's campaign for its new gateway car, the CLA. That campaign, with a "Take the Wheel" mantra, and directed to a younger consumer moving up in the world, has included a big social media component on sites like Instagram.
The automaker had its best September ever worldwide, selling 142,994 vehicles. In the U.S. last month, it posted a 7.6% increase.