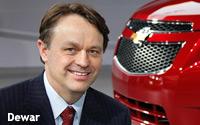 Brent Dewar, a top marketer at Chevrolet until 2010, is on the racing pitch. Dewar is to be chief operating officer at stock car sanctioning and racing body NASCAR. The company said he was hired to "accelerate a number of key growth initiatives." He starts Jan. 6.
And there are other changes afoot at the Daytona Beach, Fla.-based company. Steve Phelps, SVP and CMO, has been promoted to EVP, while Steve O'Donnell, SVP of racing operations, is also being kicked upstairs to EVP. Mike Helton continues as NASCAR president with continued oversight of all racing operations.
Dewar, who has been consulting with NASCAR over the past year, will take some weight off of CEO Brian France, who is focusing on setting the vision for NASCAR and driving key strategic growth initiatives.
France said in a statement that Dewar knows about racing but also has connections from the OEM side of the business. "He's a leader who's naturally collaborative, an essential trait as we work more closely with the OEMs, teams, tracks, broadcast partners and others to grow the sport over the next decade." At GM, where he worked for three years, Dewar handled operations, global marketing, product development media, motorsports and sales operations across brands, ending up as SVP for global Chevrolet.
Most recently, Dewar was managing partner at Whitby Advisors, where he began working with NASCAR in an advisory role in the areas of governance, rules, deterrence, penalties and officiating inspection.
Earlier this year, NASCAR brought in another former GM executive, Gene Stefanyshyn, as VP of innovation and racing development, based at NASCAR's Research and Development Center in Concord, N.C., Stefanyshyn -- a 30-year GM vet on the product development side -- was most recently GM's executive director of global product development quality.
The organization has some challenges. It's one of the top sports in terms of fans, but those numbers have slowed. It was at its peak between around 2004 and 2009. New York-based Scarborough Research says the fan base is almost 80% white and mostly over 30.
In 2011, NASCAR launched a five-year plan to build back its fan base, especially among younger consumers. After millions spent on market research the organization settled on key elements: turning the racers themselves into stars with a compelling back story; create strategies for engaging kids, college-age and multicultural consumers; focus on digital and social media, and of course, make the racetrack experience top-notch. NASCAR also opened an office in Hollywood to push for a NASCAR presence on TV and film.