Skype Debuts 'Conversation Ads' For Windows Users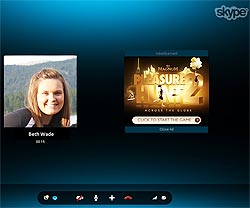 Expanding efforts to monetize its video-calling service, Skype rolled out a new display ad format Wednesday intended to spark "meaningful conversations" about brands among users. The new Conversation Ads will appear in the call window of Skype users who don't have Skype Credit or paid subscriptions when they are making one-to-one calls to other Skype customers on the Windows version of the service.
Running opposite the camera view in the Skype window, the placement of the 300 x 250 unit is designed to get people talking about the service or product advertised as part of their online chat. The existing rectangle unit and other formats that Skype has offered to date have appeared in the main page of the Skype client, but not in the actual chat window.
Now people can see the ads right near the person they are talking to. Users also have the option of closing the ad.
"So, you should think of Conversation Ads as a way for Skype to generate fun interactivity between your circle of friends and family and the brands you care about," stated a post today on the Skype blog.
In particular, Skype and parent Microsoft want to encourage word-of-mouth among friends as a more effective way to promote brands. "We know from our research that people on Skype are more likely to discuss products, make recommendations and decide what to buy with their close relatives and friends," noted a separate post on the Microsoft Advertising blog.
Whether the new ad format actually stimulates brand conversations isn't clear. Other than its placement, the ad itself is a standard rectangle unit with regular interactive features. A sample ad shown in the Skype blog post for the game "Pleasure Hunt 2" allows users to click to start playing.
The ads, which launch in 55 markets globally, will be silent and nonexpanding, and "run after we've completed our regular detailed quality checks on your connection," according to Skype. The announcement did not indicate whether Conversation Ads will be extended beyond the Windows platform or to mobile devices.
In fine print appended to the post, Skype explains it may use non-personally identifiable demographic information including location, gender and age to target Conversation Ads. Users can opt out of the company using that data (except location) for ads in its privacy settings. Skype reaches an audience of 41 million unique users.
Skype introduced display advertising last year prior to its May 2011 acquisition by Microsoft for $8.5 billion. The company historically had been slow to adopt advertising because of concerns over alienating users. "The user experience on Skype is always job No. 1," stated the company last March in debuting advertising in its software.
But since the Microsoft acquisition, Skype is under more pressure to prove it's a money-making business and not just a popular video-calling tool.