JCDecaux Lands Logan Airport Advertising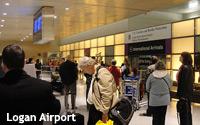 Recent months have seen a spate of airport advertising deals, continuing this week with JCDecaux's announcement that it has signed an eight-year contract to provide interior and exterior advertising and sponsorship services at Boston's Logan International Airport.
The new concession gives the French outdoor advertising giant responsibility for creating and operating a new network of digital displays, HD video walls and interactive directories in the baggage claim and concourse areas.
Logan handled about 30 million passengers this year, making it the 19th-busiest airport in the U.S.

In contrast to many of its peers, it is growing, with the total number of passenger boardings increasing 13.5% over the last four years, from 12.6 million in 2008 to 14.3 million in 2012.
The Logan advertising assets complement JCDecaux's other outdoor platform in Boston -- where the company has held the contract for the street furniture advertising concession since 2001. It rounds out its portfolio of airports in the U.S. Northeast, where it also holds ad contracts for New York's JFK and LaGuardia, Newark Liberty International and Washington D.C.'s Ronald Reagan and Dulles airports, among others.
JCDecaux has been focusing on expanding its digital out-of-home offerings. Earlier this year the company unveiled a new digital "spectacular" sign that is 50 feet long with a 688,000-pixel display, above the central passenger corridor in JFK's Terminal 8. It also unveiled a new "Prestige Digital Network," composed of three dozen 70-inch HD screens, at Newark Liberty International Airport.