This January's Social Media Insider Summit will give attendees the insights they need to succeed right now in their social media marketing efforts. Hear case studies from leading brands who have been able to turn social media campaigns into results, how to be an always-on brand, what to do with all that data, plus the latest tips and tricks for running branded communities.
Further, people who come to the Social Media Insider Summit will also get something that too often is missing from the long roster of advertising and marketing conferences – the chance to really network.

Spend three days (in the warm sunshine!) building relationships with top-tier brand marketers and industry innovators in social media. Our half-day content sessions followed by resort activities, cocktails and dinner parties provide the perfect mix of intense knowledge sharing and connections with the people you want to meet and need to know.


Previous Summer's Summit Attendees Include: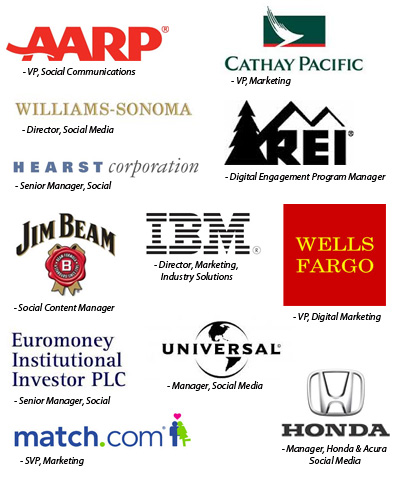 As Marc Zeitlin, VP/eBusiness of Farmers Insurance Group, said of a recent summit:
"Thank you very much for putting on a very stimulating Summit. The speakers and panels were outstanding, as was the opportunity to network with thought leaders in the space and generate new ideas. This was my first time attending the Social Media Insider Summit, but won't be my last. See you at the next one!"
Over the course of the three days, you'll also see several keynotes and case studies that are similarly rooted in the practical. These include: best practices for social marketing for brands from two-time NBA champ LeBron James; a demonstration about how retailers can leverage user-generated videos; and an example of a successful paid media campaign across social platforms.


What Attendees are Saying About the Social Media Insider Summit series:

"The SMIS event had the perfect mix of retailers, agencies and vendors to generate a lot of ideas and gain a better understanding of the role social media plays in business today. I look forward to attending again next time!"

Carri Lukasik, Marketing Manager, The Walt Disney Company

"The Social Media Insider Summit was one of the BEST conferences I've attended. From the quality of the content presented in the sessions to the round table discussions and the ample time for networking with fellow marketers and vendors, I left full of new ideas for our business. This is the best place I've found to network with other social marketers and quality vendors - I would highly recommend this event to anyone managing social media marketing."

Jennifer Stafford, Social Media Manager, HomeAway.com



"The Social Media Insider Summit was a fantastic opportunity to build relationships with leaders of digital business at Premier Brands, as well as top tier technology vendors. The exchange of ideas, best practices and cutting-edge tech solutions was impressive. I highly recommend this event."

Joseph Nolan, Director, New Media, Men's Wearhouse


"I learned a lot from brands I don't normally hear from at the Social Media Insider Summit. It was great to learn fresh new information and hear perspectives I hadn't before. I felt the vendor presentations were especially useful. I partnered with a vendor from the Summit based on conversations and presentations they showed attendees."

Chelsea Marti, Social Media Director, TurboTax (Intuit, Inc.)

"I attended MediaPost's Social Insider Summit and have to say, it was one of the best experiences I have had at a conference. I have been an interactive marketing executive for 12 years now and would put this right at the top of the heap. Superb content, great speakers and incredibly informative. Great work guys!"

Dan Sundgren, Senior Director, Intelius

"A fantastic event for learning and sharing with social media thought leaders. Gave an outstanding forward look into the world of brand experience management."

Thomas Panchak, Sr. Director, Digital Marketing, LifeScan, a Johnson & Johnson Company