Yahoo Snags 'NYT' Gadget Guru Pogue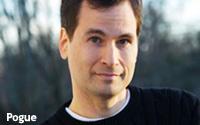 In an editorial coup, Yahoo on Monday announced hiring popular New York Times tech blogger David Pogue to lead to the Web portal's consumer technology coverage. Pogue will begin the new gig later this year, publishing columns, blog posts and video stories, as well as other material for Yahoo.
"David is tremendously talented, has a great sense of humor and is one of the best technology experts I've ever encountered," stated Yahoo CEO Marissa Mayer. Pogue returned the favor by describing Yahoo as "young, revitalized, aggressive, and under Marissa Mayer's leadership, razor-focused."
In Internet terms at least, it's a stretch to call Yahoo -- founded in 1994 -- "young." But nabbing Pogue could help boost the visibility of Yahoo's tech and overall news coverage. In his his work for the Times, Pogue has raised his profile further in recent years through contributions to "CBS Sunday Morning" and hosting the "NOVA ScienceNow" series on PBS.
His hiring is just the latest step by Yahoo to enhance its news and content offerings through partnerships with the media outfits, such as ABC News and CNBC, as well as by bringing in individual editorial talent. Pogue is not the first journalist cherry-picked from the NYT. Last month, the company tapped Times Deputy News Editor Megan Liberman as editor in chief of Yahoo News.
Last year, it hired Times technology and culture writer Virginia Heffernan as a national correspondent for Yahoo News. Efforts to increase the quality and quantity of content on Yahoo in the last couple of years, however, has not translated into higher ad sales. The company last week reported another quarter of flat growth, with display ad revenue down 7% from a year ago.
Yahoo will likely hope to attract more consumer tech ad dollars with the hiring of Pogue. Much of the content in the tech section of Yahoo News is syndicated from outside sources, including The Verge, BGR News, The Wall Street Journal, Forbes and Engadget.