Demandbase, a "real-time targeting and personalization platform for B2B," yesterday released an infographic to help marketers decide what technology to use and when to use it with their content marketing. The infographic, released in a webinar, "illustrates the Content Delivery Funnel."
The infographic could actually be very benefitial. With so many technologies available today, it can be difficult for a brand to decide what to use and when. As the amount of marketing technology continues to grow, anything that helps a marketer sift through it all for better results is helpful.
Here is the infographic: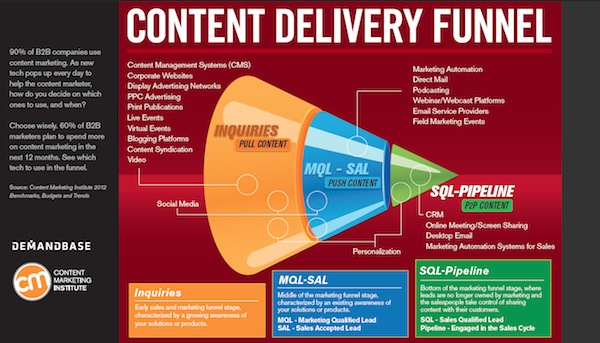 Jason Stewart, director of marketing at Demandbase, said, "Demandbase's real-time personalization and targeting platform plugs into tools such as content management systems, CRM, marketing automation, chat, and more. Because we plug directly into these platforms, we understand how relevant content should be disseminated."
advertisement
advertisement
In an earlier statement, Joe Pulizzi, founder of the Content Marketing Institute, said, "Sixty percent of B2B marketers plan to spend more on content marketing in the next 12 months." CMI worked with Demandbase to release the infographic.
"The number one thing content marketers must remember is to take a holistic approach in their strategy and understand that the technologies they use need to work together," said Stewart.