People's United Glides Through Lives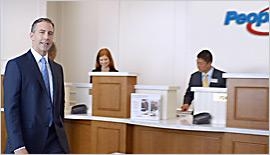 Just because a bank is small doesn't mean it can't handle the diverse challenges people (and businesses of all sizes) have on a regular basis.
As it expands deeper into New York and Boston, Bridgeport, Conn.-based People's United Bank has launched a new marketing campaign (from agency Via in Portland, Maine) that features bank employees walling seamlessly through various life and business scenarios.

In one of the spots, a wealth management representative walks from a bank through a door into the kitchen of one man's home, describing how the bank helped him land his "dream home." He then passes through another doorway to a library where a girl is studying calculus to get into college.

Finally, he passes into the sunroom of a retired couple's home, noting they now have the ability "to do everything, or nothing." "Welcome to the bank that knows how and the bank that knows you," he concludes, before a graphic showcase the tagline: "What know-how can do."
"They're getting into these 'overbanked' markets [of New York and Boston], and we needed a way to make their presence felt," Dan O'Donnell, director of client services at Via, tells Marketing Daily.
The commercials expand upon a positioning launched last year that showcased People's United employees showcasing their know-how in everyday scenarios. But as the bank is expanding into the already crowded New York and Boston markets, the bank needed to showcase the bank's breadth of services, O'Donnell says.
"The purpose of this campaign is to make the positioning more inclusive with the products they provide and increase the stature of the bank," he says. "[We want to] attract commercial banking customers and make retail customers understand they're part of a larger institution."
In addition to the television commercials, People's United will be refreshing their outdoor billboards along the I-95 corridor to reflect the updated positioning, and will sponsor "Know-how Moments" (that highlight a particularly astute play or managerial call) during Boston Bruins and Red Sox games running on the New England Sports Network through December.