Adobe Targets Next Generation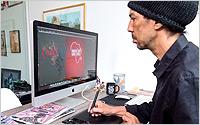 Digital creation and design software maker Adobe positions itself as the ideal suite of products for the next generation of creative artists, designers and leaders to turn their ideas into reality through a new student-focused effort.
With a new campaign, "Make It with Creative Cloud," from agency MRY, the company uses the term "Make It" as a double meaning, through which students can create everything they can dream up through Adobe's suite of products, while also enabling professional opportunities that might otherwise be unattainable (i.e., "to make it" professionally).
"It's saying Adobe is the facilitator of student ambition," Leo Leone, group creative director at MRY, tells Marketing Daily. "It's saying we're going to give them the tools to create in the real world what's in [their] heads."
The school-year-long effort positions Adobe as the enabler of creative ambition by creating opportunities through which students can collaborate and create with professionals on actual products that will receive worldwide distribution. One project currently underway encourages students to share their portfolios for the opportunity to work with noted graffiti artist Futura on digital album artwork for an forthcoming music compilation for Project (RED).
"We're trying to provide opportunities that weren't out there before," Leone says. "Rather than hold a contest to design a T-shirt, where you might win the shirt, we're trying to get bigger opportunities."
Other initiatives include featuring students speaking about their creative inspirations and processes (which will be shared across Adobe's digital properties, social networks and in some point-of-purchase and out-of-home advertising) and recruiting a group of student representatives to host workshops, creative contests and other events on behalf of Adobe.