ING Effort Highlights Saving For Retirement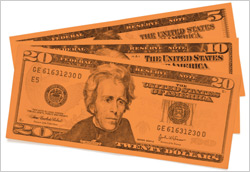 A new effort from ING U.S. focuses on the importance of managing the money that consumers have earmarked for retirement.
The creative introduces a concept that leverages the brand's well-known use of the color orange. It suggests that everyone needs to start picturing some of their money as "orange money." Unlike regular green money, "orange money" needs to be set aside in order to prepare for retirement goals.
The campaign will feature three new television commercials along with a digital marketing component.

ING U.S. aims to help Americans advance their level of retirement readiness. The "orange money" campaign supports the company's efforts to raise awareness about saving and planning for retirement today, in order to be ready for tomorrow, says Ann Glover, ING U.S. chief marketing officer.

"The theme of this campaign is more than simply about saving, it's about prioritization, so that you feel like you're in control of your financial future," Glover says in a release. "More importantly, the ads show how being prudent with your 'orange money' and sensibly managing your personal finances doesn't mean you have to give up living, which you do with your green money."

The three television commercials literally and figuratively convey the idea that "orange money" is for long-term saving. Similar to past advertising, the new ING U.S. campaign uses irreverent style.

In one spot called "Grill Master," a man is shopping for a barbecue grill. Although he entered the store intending to buy a large, nicely equipped stainless steel grill, a salesman tries to steer him to a pricier model with many more bells and whistles. After comparing the two grills, and then looking at the green and orange money in his wallet, the customer decides the first model is more than adequate. He puts the orange money back in his wallet and states that "this orange money is not for awesome grills; it's for my awesome retirement."

Another spot features a couple discussing the importance of being responsible with their orange money, which they need for their retirement. The wife, who is doing laundry, finds some orange money in the pocket of a pair of jeans. After calling out her husband to be more careful with their orange money, he dutifully points out that the jeans belong to her.

The spots broke March 14 on financial news programming across a number of networks. They are also scheduled to run on network television around sports programming, including the men's national collegiate basketball championships.

Digital advertising will include online video, display ads, paid search, and high-impact site sponsorships. Ads will appear across a variety of digital properties that are visited for financial information and other content that aligns with target customer lifestyle interests.