Pandora Names McAndrews CEO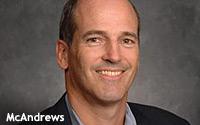 Brian McAndrews, who previously served as CEO of digital advertising firm aQuantive, has been named chief executive officer of Internet radio pioneer Pandora, founder Tim Westergren announced Wednesday.
McAndrews replaces Joe Kennedy, who announced his resignation in March, effective immediately.
He made his name by transforming Avenue A -- a small Seattle-based ad agency founded in 1997 -- into aQuantive, a digital powerhouse and parent company of Avenue A/Razorfish, Atlas Solutions and Drive Performance Solutions. McAndrews, who joined Avenue A in 1999, championed a more sophisticated approach to online advertising attribution, based on tracking individuals across the Web -- thus helping popularize behavioral targeting.
After eight years with McAndrews at the helm, aQuantive was acquired by Microsoft for $6.3 billion in 2007 as part of the latter's bid to take on Google in online advertising, although many subsequently criticized Microsoft for overpaying. (McAndrews left Microsoft in 2009, and in 2012, Microsoft took a $6.2 billion writedown, which was blamed in part on the aQuantive acquisition).
McAndrews' appointment signals Pandora's focus on building up its advertising business, a key element of its business strategy. In the second quarter of 2013, total advertising revenues came to $128.5 million, up 44% from $89.4 million during the same quarter in 2012. The 2013 figure represents 82% of total second-quarter revenues of $157.4 million, with most of the rest coming from subscriptions.
Although Pandora's advertising revenues are growing quickly, the company still faces challenges in balancing its books, as royalties and other expenses continue to keep the company in the red.
In the second quarter, total costs came to $165 million, for a $7.6 million loss. At the same time, the new CEO will also have to deal with complaints from musicians -- including famous bands like Pink Floyd -- that Pandora is shortchanging them on royalties for their songs.