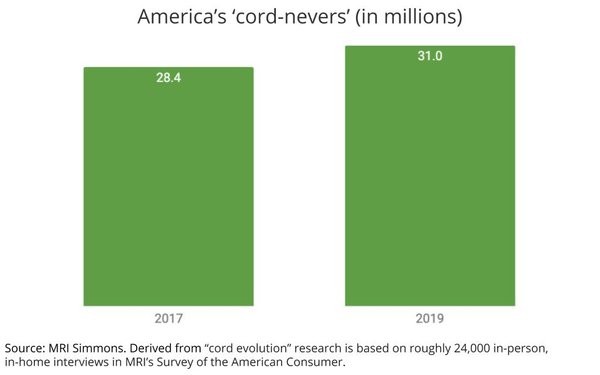 The number of Americans deemed "cord-nevers," meaning they've never subscribed to a traditional TV service, grew 9% over the past two years to 31 million in 2019, according to estimates released today by MRI Simmons.
The data, which is part of MRI's "cord evolution" research, is based on findings from roughly 24,000 in-person, in-home interviews derived from MRI's Survey of the American Consumer, which is one of the gold standard sources for agency media planning.
According to MRI, those 31 million people represent 12% of the U.S. adult population and have a median age of 33 and an average household income of $52,800 (up from $41,500 in 2017).
On the bright side for traditional cable, satellite and telco subscription TV service providers is that the study finds 27% of the "cord nevers" -- about 8 million U.S. adults -- say they plan to subscribe in the next six months.
Even more, 30%, plan to subscribe to a live streaming TV service such as Hulu with Live TV, DirecTV Now or Sling TV.
Chief reasons "cord-nevers" plan to subscribe to a pay TV service (below):

Source: MRI Simmons.