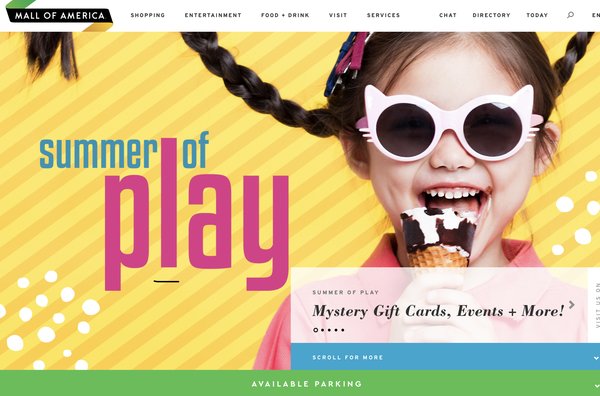 Mall of America, located in Bloomington, Minnesota, outside of the Minneapolis/St. Paul metropolis, is 27 years old. A new one will open in East Rutherford, New Jersey, in October. Despite the dismal retail landscape, the Mall is an experiential property, Sara Johnson, Integrated Marketing Manager, Mall of America, told our Data & Programmatic Insider Summit, "not just retail. We look at Disney, for example, which has similar goals." It is a tourist-heavy destination. Forty percent of its annual visitors are, in fact, tourists.
The Challenge
Getting customers into the mall and having them stay there. Johnson said the brand "put out RFPs [and] Ciceron delivered."
The Execution

The target audience is women 25 to 54 with children living within 150 miles of the Mall. Eighty percent of media is spent on this primary target. Ashley Evenson, Director, Emerging Media and Ad Solutions, Ciceron Digital Media Group, started working with them a year ago. "Our goal was to take lot of direct buys and put them into the programmatic landscape. We were looking at location and audience data, and how to get that audience data into the social walled garden using mobile IDs and custom audiences. How to connect to TV, Spotify, and social. We placed a geofence around the Mall."
In one campaign, they used location-based data to go after the family traveler with extra income. They location-based data from Disney World, Wisconsin Dells (a very large water park), and water-themed hotels. They put geofences around The Wilderness and Great Wolf Lodge to bring family audiences in for spring break.
For its winter holiday campaign, Johnson said, the Mall was looking to drive traffic up by 1%, and sales by 2%, both YOY. The holiday season runs from November through early January, and focuses on a variety of tactics: Santas on site, free wristbands, New Year's Eve celebration with Nickelodeon Universe. It included a Black Friday ad, scratch-offs, prizes on site, and a holiday gift guide.
Evenson said the effort drove 20% growth on the Mall's website, as well as social fan growth. "What I love about this is we can now give attribution toward more of these awareness channels and actually prove the return on ad spend," she said. The main takeaway: Spotify audio was the most cost-effective channel when driving visits at 22 cents per visit. "Even is someone bought [just] a cup of coffee at the mall, you're coming out ahead on ad spend."
For its holiday campaign, centered on the Minneapolis/St. Paul, Chicago and Wichita DMAs, they banked on social, display, and geofence ads, focusing on "the man in the waiting room chair checking his fantasy football game while his wife is trying on clothes," said Evenson.
"We wanted to integrate our holiday campaign into our next-year goals as well," said Johnson. "For spring break, our objective was very much the same as for the holiday. We're looking at traffic, reach and frequency, engagement, sales, impressions."
Evenson said the focus of the spring break campaign was connected TV. "Our main focus here was offline attribution," she said. "The visit rate percentage was 13% higher than the holiday campaign. If someone saw our connected TV ad, they were more likely to go to the Mall rather than [if they saw] the Spotify ad. For future campaigns, while Spotify has lowest cost per visit, we want that connected TV ad because they're more likely to go."
The Results
20% growth on visits to MallofAmerica.com.
ROI at 22 cents per visit.
Visit rate percentage was 1.17%, more than double the highest benchmark.
Key Takeaways
Geofencing can target interests, not just places.
TV is higher cost but continues to drive behaviors/actions better than other media.
Use location-based mobile technology to attribute online and offline ad spend to foot traffic.
People go to the mall when it's cold.