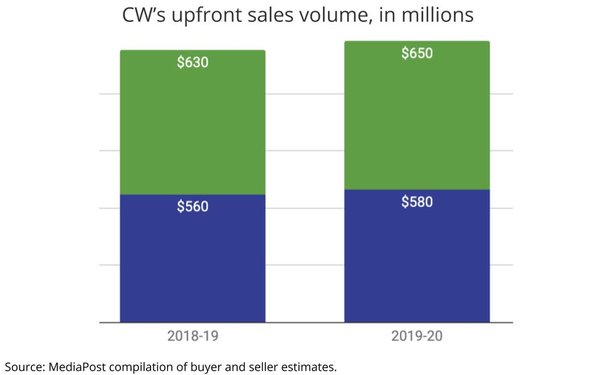 The CW has closed its upfront advertising dealing for the 2019-2020 TV season quickly -- just three weeks after its programming presentation -- with strong 14% to 15% hikes in the cost-per-thousand adult viewer pricing and overall single-digit percentage gains in upfront dollar volume.
Media executives estimate that the CW's upfront dollar volume rose to $580 million to $650 million, which includes its linear TV network and multi-digital platforms.
The CW has now been selling upfront advertising packages of linear TV network and digital media inventory for 10 years.
A year ago, the broadcast network pulled in about 15% more advertising upfront dollar volume versus the 2017-2018 TV season, estimated to be $560 million to $630 million, resulting from adding a two-hour Sunday night programming block for the first time.
advertisement
advertisement
This is the second year the CW has been selling a six-night prime-time schedule.
The CW has sold about 80% of its TV inventory in the market, according to media executives. Strong advertising category improvement came from pharmaceutical and fast-food companies.
A CW representative had no comment about upfront activities.
For the 2019-2020 TV season, The CW is airing 17 scripted shows -- 14 returning series and three new series.
Last year, total broadcast prime-time upfront TV advertising revenue witnessed a 5.2% increase for the 2018-2019 TV season -- similar to a rise the year before -- to just over $20.7 billion, according to Media Dynamics, a media consulting/publishing company.
For the September to May 2018-2019 TV season period, The CW's linear TV ratings were down 22% to 1.34 million Nielsen prime-time viewers. Among 18-49 viewers, the network dropped 33% to a 0.4 Nielsen rating.