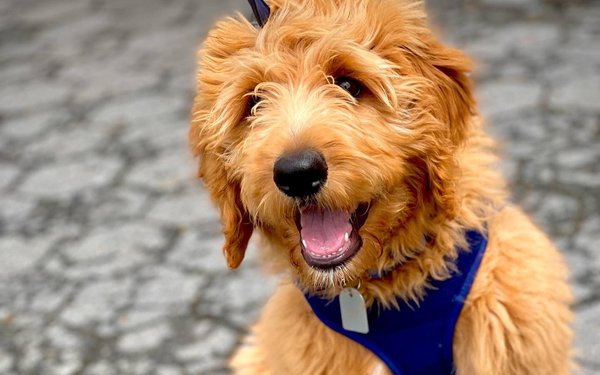 Moose, a New York City goldendoodle
Bark, which introduced its breed-specific dog food last summer, knows the average pet owner thinks they've got the most photogenic dog in the world.
But after sifting through thousands of submissions, it's come up with 10 extra good-looking dogs, chosen to represent their breed.
"Our first-ever dog model search in honor of the launch of Bark Food, our new breed-specific food, resulted in more than 6,800 submissions from dog parents across the country," says Alexa Figueras, Bark's head of brand strategy, in an email to Marketing Daily. "This dog model contest goes to show that dogs are indeed like children to many and continue to be very important members of our families."
The 10 winning pooches are getting more than a belly rub. All of them get to star in the social-media campaign, targeting Bark Food's 7 million followers. They'll also appear in the company's marketing materials, and win $500, toys, treats and a professional photoshoot.
advertisement
advertisement
Bark says they're not just cute. Some have back stories compelling enough to get them on to a reality TV show.
Fenway, for example, a Labrador Retriever mix from Denver, beat blastomycosis, "and his permanent wink makes him a hit with the ladies."
Luna, a boxer from New Hampshire, won for her grumpy puss and impressive howling.
And two are named Toby: a nap-loving Chihuahua from Minneapolis and an extra-snuggly Oklahoma dachshund.
"We saw the most submission entries from dog parents of German Shepherds and pitbulls," Figueras says. "There were almost double the entries compared to each of the other breeds, which surprised us."
Bark, which owns BarkBox, makes specific formulations for Chihuahuas, Labs, pitbulls, dachshunds, French bull dogs, boxers, Aussies, German shepherds, golden retrievers and doodles, all tailoring health and nutrition issues known to impact the breed. The company intends to keep launching new formulations until every pooch in the pack has its own custom blend.
Of course, mixed breeds -- about 53% of the dogs in the U.S., according to the American Veterinary Medical Association -- won't go hungry, either. The company suggests starting with the main breed and customizing from there.