« Back to Search Results
'Upgrade' Your Agency's Clients: Three Priorities for 2019
WeWork 18 West 18th Street, New York New York
May 16, 2019
Start Time: 6:00 PM
We all want great clients… but it's an ongoing struggle for most agencies. To make the upgrade, you need to consistently do three things: fire terrible clients, attract good
clients,
and grow great clients.
In this mini-workshop for agency leaders, you'll get concrete ideas to jumpstart 'upgrading' your current and future client relationships. Author and consultant Karl Sakas (@KarlSakas) will share real-world tips based on his experience advising 300+ agencies on every inhabited continent and his background as an agency operations director.
Thanks to AMA New York, you'll head home with the next steps you can start applying immediately to improve your agency. Your ticket includes light appetizers.
FEATURED SPEAKER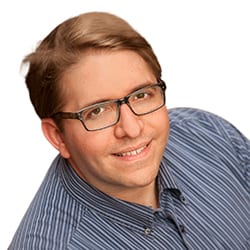 Karl Sakas
Author & Agency Advisor
Sakas and Company
Agency growth is good… unless it gets out of control. Karl Sakas (@KarlSakas) helps agency owners increase their profits and reduce their stress, by conquering growing pains. As a management consultant and executive coach at Sakas & Company, Karl has personally advised hundreds of agencies on every inhabited continent. He is the author of Made to Lead, The In-Demand Marketing Agency, and more than 300 articles on agency management. When he's not helping clients, Karl is an award-winning Past President of AMA Triangle and volunteers as a bartender on a 1930s railroad car.
Get a free copy of his eBook Don't Just Make the Logo Bigger: Taking Clients from Painful to Profitable when you sign up for his free weekly tips.


TICKET PRICING:
$20 Current Members of AMA New York
$25 General Attendees



EXTRA READING
Want to learn more about Karl before the workshop? Check out a few articles about Karl Sakas and Sakas & Company
Ticket sales will end at 10 PM on Wednesday, May 15th. No day of, on-site registration will be available.
Contact: Molly Purcell AMA New York , 646-701-5367, molly@amanewyork.org
Create an Event
Use the filters below to refine your search
By Dates
By Location
By Tag