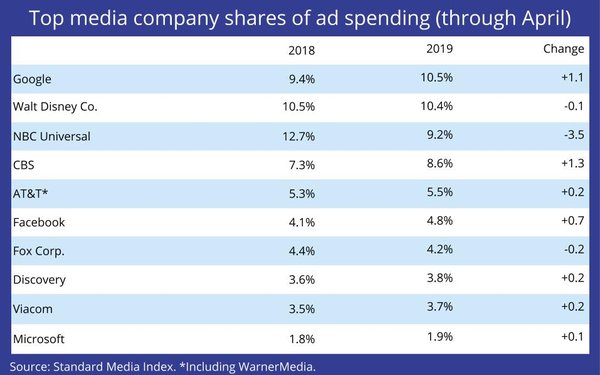 Market share winners and losers have begun to emerge during the first four months of 2019, and they don't necessarily follow a digital divide.
Google jumped to Madison Avenue's No. 1 supplier from No. 3 during the first four months of 2018, reversing positions with NBC Universal, whose networks televised the 2018 Winter Olympic Gains.
Editor's note: This article has been updated from previous version that incorrectly reported this data as volume growth, not ad budget shares, due to a labeling issue. Additionally, new analysis has been published here.
The data, which is being released this morning by Standard Media Index, is based on a compilation of actual media buys processed by the major agency holding companies' buying organizations. It doesn't necessarily reflect smaller independents or the "long-tail" of the media-buying marketplace.
advertisement
advertisement
But based on big agencies -- and the big clients they represent -- the market-share growth appears to be highly stratified so far in 2019, an "off-year" between biannual Olympic and election spending cycles.
"Of concern to the U.S. ad marketplace is sharp hesitation -- maybe hiccup -- in digital spending," SMI notes in one of its first longitudinal analyses of the U.S. ad marketplace. "Major marketers have limited their incremental investments in search to a tiny +1.6% growth level through the first four months of 2019. This is down from double-digit growth through the same point in 2018, and strong growth for search for years broadly."
The analysis also reveals a mixed bag of market demand from top advertising categories heading into the 2019-20 upfront buying season.
According to SMI's upfront vs. scatter market-share analysis, the top two categories -- consumer packaged goods and financial services -- are signaling lower demand in the scatter market, as are other biggies, such as pharmaceuticals, automotive, restaurant and retail.
Categories exhibiting higher scatter demand include technology, entertainment/media, general business, wellness and travel.
"This could be a fascinating upfront season as long-term upfront marketers, particularly low-base CPG brands, may face a tough environment," SMI writes. "Supply losses have been so significant that media owners may move away from tiering low-base brands to allowing only a small portion of their intended commitments. Sell-out levels, too, are in question with significant scatter premiums likely awaiting the marketplace."