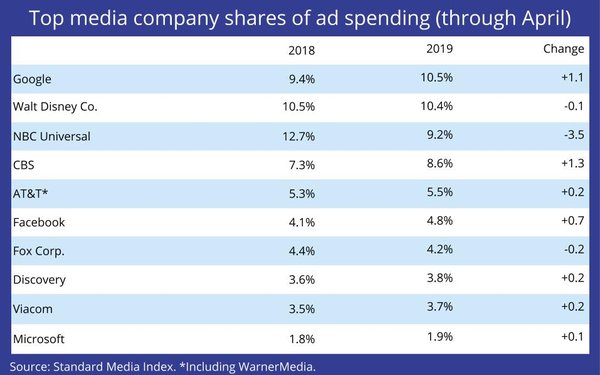 A year after the 2018 Olympic Games were televised by NBC Universal networks, shares of ad spending among America's top media companies have shifted markedly, with Google moving to No. 1. from Madison Avenue's No. 3 supplier, flipping positions with NBCU, according to an analysis of media-buying data from the major agency holding companies through the first four months of each year compiled by Standard Media Index.
The data, which was released earlier this week, originally was reported incorrectly as volume gains, not shares, by MediaPost due to the mislabeling of the data. The original report has been updated with a note and a crosslink with this story.
advertisement
advertisement
The data also shows that Walt Disney Co. remains No. 2, but fourth-place CBS has had the greatest overall share gains, rising 1.3 points through April.
Interestingly, Facebook has also shown strong share gains -- nearly a full share point -- year-over-year, despite a lingering backlash to a variety of data, privacy and measurement issues.
Overall, the three pure-play digital media suppliers in SMI's analysis -- Google, Facebook and Microsoft -- had a 1.9 share-point gain vs. their legacy media counterparts.
The digital share shifts likely are at least partly due to comparisons with the 2018 Olympics, which typically generate some incremental ad spending from big advertisers, but could also represent some underlying changes.
Perhaps most interesting of all is the fact that the combined share of the top 10 media companies remained unchanged year-over-year at 62.6% of total spending by the big ad agencies.